12 Week Complete Ski And Snowboard Workout Plan
The tried and tested complete ski and snowboard workout plan to improve your ability to ride for longer, avoid the leg burn, learn new skills faster and reduce the risk of injury.
This is for shredders who want to:
✔ Improve their muscular and cardiovascular endurance to ride for longer.
✔ Improve their core and stability (balance) to aid their ability to learn new skills.
✔ Improve their mobility and flexibility to avoid the risk of injury.
HOW?
4 components you should include in your snowboard and ski training workouts to be FITTER and STRONGER on the hill because you love the snow as much as this panda: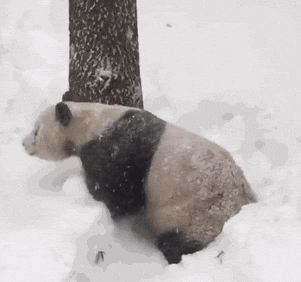 1. Dynamic Warm Up
Lengthens muscles using relevant movements to help you improve training efficiency, reduce risk of injury and activate all muscles including under active ones (such as assisting muscle groups that are supposed to support major muscles). Dynamic exercises do all of this by increasing blood flow to ensure that the muscles are ready for maximum output.
2. Functional Strength
Using multi-joint, compound movements suitable for moving across different planes of the body when skiing and snowboarding. Specific strength training to improve the muscles ability to endure continual contractions for extended periods of time without undue fatigue. Core and stability exercises will help to prepare for core strength and rotational movements required whilst snowboarding and skiing. Balance and stability training will work to activate stabilizing muscles, which are the tiny muscles that support major muscles groups and promote stability through all joints.
3. Cardiovascular and Interval Training
Combined with power exercises to promote explosiveness required for the hill with a goal of lowering your resting heart rate to improve overall performance and minimise the risk of feeling "out of breathe".
4. Mobility and Flexibility
Important to ensure full range of motion through the joints which will reduce the risk of injury and maximise power and performance whilst shredding.
WHAT DO I GET?
This will be your complete plan in the lead up to the snow season.
✔ 12 week complete ski and snowboard workout program with 2 – 3 different types of training sessions a week.
✔ Progressive exercises for advancement and progress throughout the 12 weeks to ensure strength, stability, power and mobility are all reached.
✔ Video demonstrations of exercises include explanations for proper form and technique on more advanced exercises.
✔ Scheduling and progress tracking resources to keep yourself accountable and monitor progress.
✔ Goal setting worksheet that I use with all of my clients to set achievable long term goals for training and for the snow season.
✔ Education for mobility and flexibility for injury prevention and learning how to train smarter in the lead up to the snow season so that when the season starts you can spend more time riding and less time in the gym.
✔ Nutritional strategies for success that works.
All of which will ensure progress and success along your journey.
YOUR INVESTMENT TOWARDS IMPROVING YOUR PERFORMANCE?
A 12 week snowboarding and skiing specific program is much more cost effective than training in-person. Having a trainer in-person would easily run you $600 to $1,000+ a month for the equivalent number of sessions. That is because you are not only paying for the trainer but you're also paying significant gym overhead costs.
The investment for this coaching program is: $99 AUD.
That's it.
Cheaper than a personal trainer and 12 weeks worth of training as a thank you for letting me help you improve your performance for the snow.

I'm devoted to your fitness, health and confidence and I will be sure to give you what you need. Nothing more, nothing less.
I only ever train a certain number of one-on-one clients online at any one time so that I can ensure I am dedicated and focused on their success.
So I really wanted to put some time into a program that anyone could have access too, to get results.
To get started, click the link below and you will be taken to a secure server to complete your payment.
>> Click here to go to PayPal to get started
Please make sure you are committed.
WHAT'S NEXT?
Once you go to PayPal to complete your payment to get started, I'll receive a notification. At this point, within 24 hours, I will send you will get an invitation to download your full training program. Upon downloading it, your program will be ready to go along with exercise videos and notes from me. You're now ready to go with your program.
__
So, let's get started?
I made this thorough because I only want the program to go to amazing people who will get amazing results. If everything looks good to you, the next step is payment. Click the link below and you'll be taken to a secure server to submit payment and we'll get going right away.
>> Click here to go to PayPal to get started today
Can't wait to work with you,
Kate Howard
Personal Trainer
Wondrous Health and Fitness